Welcome to the Goldsworth Park Remembrance Sunday service which we are streaming "live".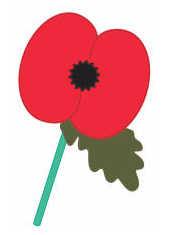 The live stream has now finished but you can replay it here through the week. Under current Covid restrictions, we were not able to gather at the war memorial as we usually do, but representatives from the Community laid wreaths at 11am. Please pay your respects during the week at the memorial outside the Health Centre next to the church.

---
Notices
A special welcome if you are joining us for the first time. We'd love to welcome you properly, so please click here to send an email: welcome@standrewsgwp.org
You can view previous services and our online Sunday School with activities for children here on Worship this Week – bookmark the address: www.goldsworthpark.org.uk/wtw
The family Poppy Quest at St Andrew's
From 1st -15th November there will be a display of eleven poppies in the windows of St Andrew's Church building which will be visible from the outside. You're encouraged to go on a poppy hunt, and to reflect on the meaning of Remembrance, while trying to solve the anagram of letters seen next to each poppy. There's a poem here to help you!Small groups of family members, friends, school children, scouts or guides groups are very welcome – please remember to maintain a social distance of 2m from other groups. Please be aware that Andy's Café may be open, and that there is CCTV on the building.
Open for Sunday worship
Due to Government Covid precautions we are no longer able to meet in person in our church building for Sunday worship during November. Worhip will not cease, of course – we will aim to live-stream worship from church for you each Sunday. Please look on the weekly mailchimp email and the Worship this Week Facebook group for information.
Tearfund Big Quiz Night: Saturday 14 November
Save the date! The Big Quiz is going on-line via Zoom. For full details see the COMING UP page on our main web site:www.standrewsgwp.org/coming-up
To register your team use the linkhttps://forms.gle/VcCpYjJgkRwzNpd57
Donate here: www.justgiving.com/fundraising/andysgwp
Or to find out more contact Patrick: community@standrewsgwp.org
Sunday Zoom Coffee chat
Join Sue for a Zoom chat after today's Remembrance Sunday service at 11.15am – note the earlier time. The link is in this week's news email which was sent on Thursday afternoon.

Prayer in the Morning
Every Wednesday from 9.15am-9.45am via Zoom. The link is in this week's news email.
St Andrew's weekly news email
If you'd like to be added to the distribution list for the weekly church email, send an email to Helen in the church office (but working from home): office@standrewsgwp.org
St Andrew's Eco facebook group
The group has many tips about living more sustainably and looking after God's creation. Take a look and share your good ideas too: www.facebook.com/groups/2426737737630739
---