Welcome to our simple Good Friday service for all ages.
Opening Prayer (The collect for Good Friday)
Eternal God, in the cross of Jesus we see the cost of our sin and the depth of your love: we come to place at his feet all that we have and all that we are,
through Jesus Christ our Lord.
Amen
---
Read Luke 23
or
Watch the following Bible story cartoon from Saddleback Kids
---
Join Janice in her garden as we think about weeds, sin and the Cross of Jesus.
---
Sing
Children's song: 1 2 3 Jesus is alive
The Power of the Cross:
You are my King (I'm forgiven because you were forsaken):
---
Pray
The Holding Cross Prayer
You will need a cross. If you don't have one already you can draw one and cut it out, or make one from twigs, straws or two rolls of paper.

Hold your cross and pray:

As I hold on to this cross, Lord Jesus;
I remember that you died to save me.
As I hold on to this cross, Lord Jesus;
I am filled with your strength and peace.
As I hold on to this cross, Lord Jesus;
I know that evil and sin will not win.
As I hold on to this cross, Lord Jesus;
I know that your love will last forever.
As I hold on to this cross, Lord Jesus;
Please hold on to me. Amen
(Adapted from A-cross the world: An exploration of 40 representations of the cross from the worldwide Christian Church. Martin Payne & Betty Pedley.)
Keep holding your cross and pray for those needing strength and peace from Jesus today.
---
We never pray a prayer of blessing on Good Friday because Good Friday isn't the end of the story…
The story continues on Easter Day when we remember the wonderful news that Jesus didn't stay dead in the tomb! We celebrate that Jesus is alive; He is Risen, and we can know Him today. (Join us to celebrate on Easter Day at 10am for a service live-streamed via YouTube for all-ages. Contact Kate for details or see the weekly MailChimp Email).
On Good Friday we remember some difficult things: Jesus' suffering on the Cross and His death. Jesus spoke the following comforting words to his disciples, and we end our remembering of Good Friday with them. You might like to read them out loud.
Jesus said:
"Do not let your hearts be troubled, neither let them be afraid. Peace I leave with you; my peace I give to you."
---
Make & Chat: an Easter Garden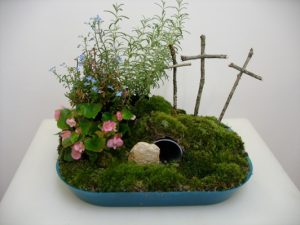 Get a triangular yoghurt pot and bend the smaller triangle upwards to make the tomb. Or use a take-away tray, or a bowl for the garden, and an empty yogurt pot or small cup for the tomb.
Add soil to your triangle pot, tray or bowl. If you don't have a garden, feel free to take a spoon with you on your daily walk and go to the flower beds outside St Andrew's Church, Goldsworth Park. Help yourself to some soil, and any flowers too (keep social distancing though). If anyone asks you what you are doing just say: "Kate, the vicar said I could. It is for my Easter Garden."
From your own garden, or while you are out walking, look for small stones or sticks to make a path with. And some moss, flowers and plants to add to your soil.
Then make a cross with two twigs or lolly sticks, tied together with wool or string or Sellotape.
Add your cross to the garden and place a pebble in front of the tomb to seal it shut.
To chat about while making
Talk about the events of Good Friday, and the way Jesus died on the cross to take everyone's sins away and to bring all of creation back to God.
As you put the stone in front of your tomb, remind them that Jesus' death wasn't the end of the story – the stone was rolled away on Easter Day and the tomb was empty. Ask them what they think happened…
On Easter Day don't forget to roll your stone away from your garden tomb before you join us on-line via Youtube at 10am on Sunday 12 April to celebrate that Jesus is Risen! (Contact Kate for details or see the weekly MailChimp Email).
---